Hey Guys,
FLYA has fully accomplished the
first goal
. The goal of doubling a hundred views, well we've reached a bit higher than tripled it. Take a moment and look at this graph I've created.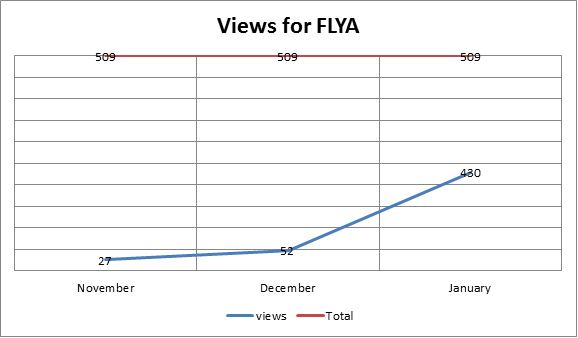 These are the stats for the past two months, almost three. Thanks to you, the goal has been reached.
The graph shows that November has twenty seven pageviews, as December beat with a smashing of fifty two. Although grateful of December and Novembers page views, January beat all with four hundred and eighty. The Five hundred and nine, all the way at the top is total views. That's all the views we've had so far. It's amazing isn't it?
As you can tell the blogs look as changed yet again. I'd like it if you comment down below if you like the new look? Or your opinion on it. I changed the Amazon ad on the right. If you didn't realize it. It's red and yellow. It has the top six of what I recommend, and what I'll be talking about for the next few weeks.
I'm working on getting google adsence, and I'm looking for a few poultry breeders willing to send me pictures. It would be very appreciated. The next goal is getting up to a Thousand views. The blog will change looks again, I'll have one of these stat graphs again. Don't forget to comment, share with a friend and favorite so you can come back later. The next few posts to come is:
I'll be working on the 'Welcome Page' this week. So stay tuned!
Till Next time,
NM